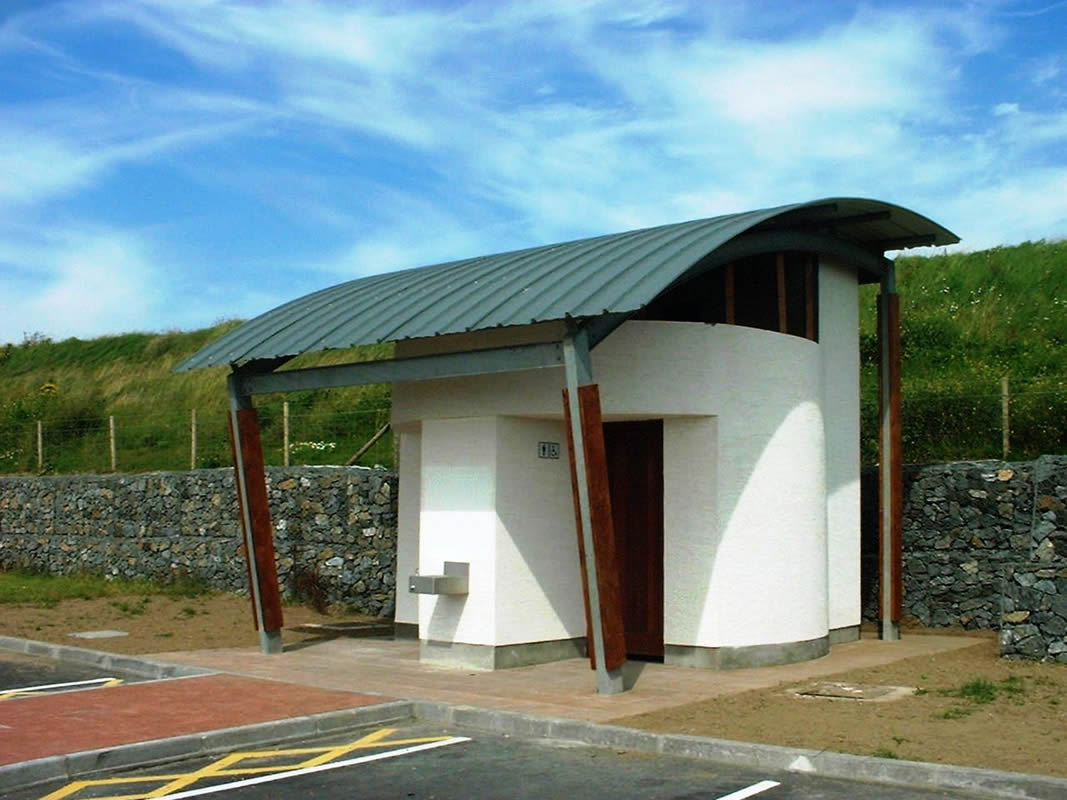 Templetown Public Toilets
Civic
Design for public conveniences at a beach in County Louth. The Project won an RIAI Regional Award in 2003
Architect's Comment:
In an effort to regain "Blue Flag" status for it s beaches, Louth County Council commissioned a series of public toilets for Carlingford, Port and Templetown Beaches. The toilets at Templetown were half built when they had to be demolished to allow for excavations searching for a body relating to Terrorism in Northern Ireland. No body was found and the toilets were re-erected and completed this year.
The brief was all too simple, one male and one female (accesible) toilet and a drinking fountain on the edge of a car park. However, the setting for the building backed by a sandy bank and on the shoreline of this attractive South facing beach meant that the architects were keen to build something which evoked happy days at the seaside rather than the usual unattractive bunkers which pervade this building type.
It was quickly decided that the building should be largely oval shaped on plan reflecting the natural curves and waves associated with the beach and its surrounding landforms. The need to provide simple high levels of natural ventilation meant that the roof could be literally separated from the building.
The design allows for the roof to be independently supported by two galvanised steel portals running from front to back with the front columns inclined to allow the roof fall forward to provide shelter for people visiting the drinking fountain. The roof is formed by an asymmetrical vault with the higher end covering water tanks and services set against the sandy bank with the lower end sweeping down towards the sea. All fittings and finishes internally are robust to allow for the toilets to be hosed down.
Link to RIAI Irish Architecture Awards Page:
http://goo.gl/58rXg4
Location:

Templetown, Ireland

Construction Contract Value:

€ 2,000,000

Key Dates:

Completed 2003

Client:

Louth County Council

Project Manager/Architect:

van Dijk International
Back