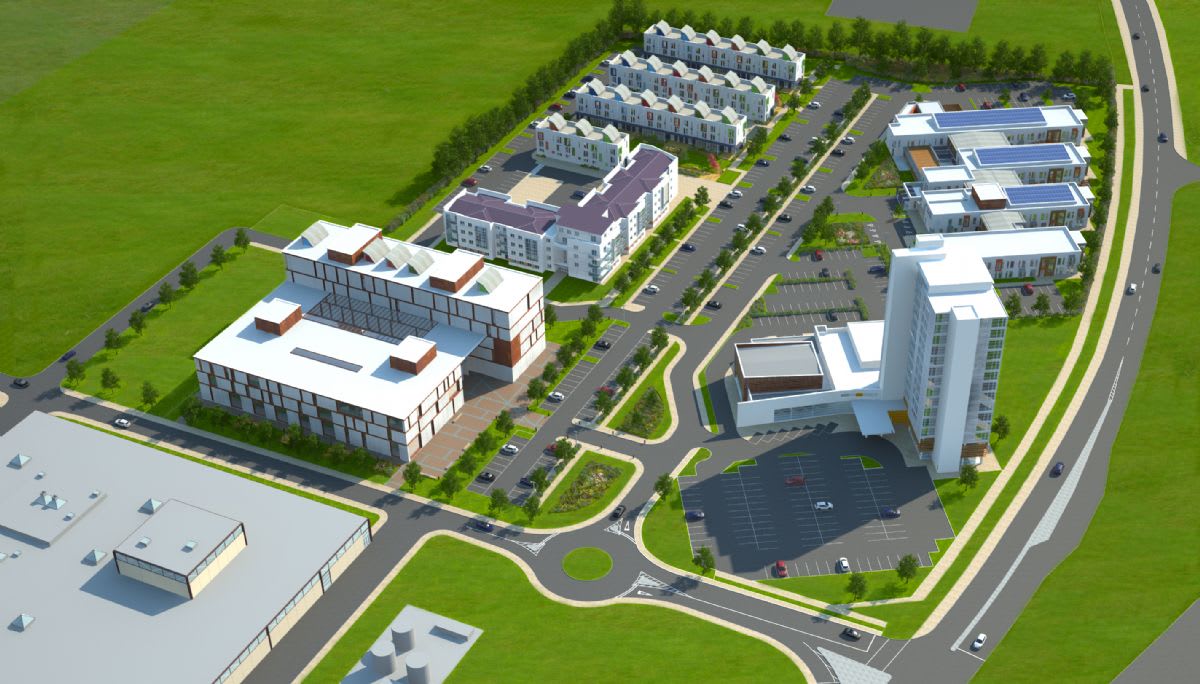 Green Park Nursing Home
Healthcare
Part of the Greenpark Phase II Masterplan. This new 127 bed nursing home is broken down into four smaller units arranged around a communal garden which has been specially designed for patients living with dementia-type illnesses. The idea of having small communities within a larger collective buiding is to promote familiarity and closeness between those living in the building, their families and the staff who are there to support them.
We examined linkages between external and internal spaces in several ways; First of which was a typical residents room. Where the rooms look out onto garden space, we aimed to make each small courtyard garden distinct by using various types of planting and raised planters to give the space a certain distinctiveness to promote recognition. We also tried to provide some form of focal point from each room by the use of planting, such as deciduous trees to allow the resident to watch them bloom through the year.
Where the day rooms and lounges open out into the landscape area, we have ensured there are no changes in level that require steps or ramps, therefore reducing the chance of trips. Furthermore plenty of space has been given at the connections between inside and out to give residents with reduced mobility, or those in wheelchairs plenty of space to manoeuvre. Where the lounges look out on the landscape we have tried to create interesting views by the use of feature specimen planting and focal points such as flower trellace walk ways, gazebo rest area, overlooked bird feeders and outdoor gardening work place.
We hope that all of these measures will increase the quality of life of residents staying at the nursing home thereby reducing pressure on the staff who will work there. We hope that it will become an examplar for nursing home design standards in Ireland.
Location:

Dundalk, Ireland

Key Dates:

Tender Stage

Client:

Bennett Construction

Project Manager/Architect:

van Dijk International
Back